마음의 소리: Reboot
Sound of Your Heart: Reboot came 2 years after the original work starring Lee Kwang Soo and Jung So Min. I didn't watch that one and to be honest I wasn't really wanting to watch this reboot either… don't get me wrong I love Kwang Soo and So Min, but the concept just didn't appeal to me. However, it stars SNSD's Kwon Yuri and is thus part of my idol actor challenge ♥
These dramas are based on the webcomic – "Maeumui Sori" (sound of your heart) by Cho Seok which was first published in 2006 and is still being serialised – you can check it our here~
In the reboot, the drama has aired and the real writer: Cho Seok (Sung Hoon) is dealing with his success, by which I mean just living his wacky life as usual. The characters that he draws in his web comic are all members of his family: Eomma (Shim Hye Jin); appa (Joo Jin Mo) and Joon hyung (Tae Hong Ho). As well as his girlfriend, Ae Bong (Kwon Yuri).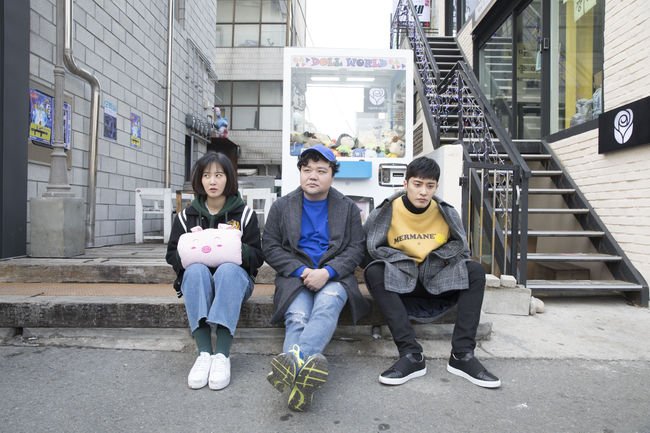 In this series, we see the characters make strange life choices and get themselves into awkward and absurd situations. The webtoonist job is obviously an important aspect to the storyline, however, we spend more time just watching the characters be odd (oh we do see Seok either having trouble getting inspiration or getting distracted round deadline time).
At first, I wasn't very taken with the drama. It is very slapstick heavy and there was so much poop and toilet humour… I'm also someone who finds it hard to watch others be embarrassed or do embarrassing things and their was just so much of that going on! 😂 However, I was able to get used to it and certain aspects of the drama were very enjoyable. The production of this drama was pretty good, along with effects and transitioning. There was a great part where Seok and Ae Bong are having a rivalry and there are two commentators on the screen, and I enjoyed that a lot!
The acting was somewhat the same. At first, I was a little put off, but then Sung Hoon had a shower scene and I was all aboard! No – well, yes – but I also got used to his being that kind of character. You really have to get to grips with the characters to understand the acting choices – at least that's how I felt. I think Sung Hoon did a great job with this role (although I can see why some would be wary of this reboot, this kind of humour seems perfect for Kwang Soo considering how he acts on Running Man 😂). 
Yuri also embodies that violent, loving and headstrong Ae Bong. I will say that my standouts were Hang Ho as Joon, as well as Seok's best friends (Kim Sung Won & Kang Yoon) mainly because all three of those men are so dumb!
Overall, this was an okay drama. The episodes are 35mins (ish) and are split into 2 "stories" and I quite liked this in the end. It's very episodic and somewhat formulaic, but it makes the content even more consumable. I watched the entire thing in one sitting even though I wasn't really feeling it in the beginning. While the plot may not be the greatest, there were some great moments and I certainly never knew what was coming next!
There is a series 2 of this reboot, but I can safely say I am content with just this one and won't be checking it out further.
---
Ratings:
Plot: 4.5
Production: 7
Acting: 7
Enjoyment: 5
OVERALL RATING: 5.875⭐
---
Credits:
Director: Jung JungHwa
Channels: KBS2/Naver TV/Netflix Original
Episodes: 10
---
What were your thoughts on Reboot? Did you watch the original?
Thanks for reading! I hope you're having a lovely day and keeping safe ♥