"3 books ahead of schedule" – Goodreads~
My plan for May was to complete the necessary prompts for the O.W.L.s so that I could be well on my way to becoming a Ministry Worker aka an Unspeakable!
For those who don't know, this ReadAThon took place in April, however that was a tricky and busy month for me so I decided to just move it to the next month haha
I had to complete 5 challenges, and my overachieving butt completed all 12… and I read an extra!
May was my exam month and I revised for all 3 exams in about 4 days… if that… why can't I care and put this much effort into things that matter?! 😂 Even so I'm immensely proud of myself and this is the first time I've been ahead in my Goodreads challenge!!!!!
For my TBR, which I changed only a tad, is here: O.W.Ls TBR
---
Care of Magical Creatures: Land Animal On The Cover
Just to clarify there is a dog on the cover~
Inspector Hobbes and the Blood (Unhuman #1); 
Wilkie Martin
⭐⭐⭐.75
This was a fun, odd and quirky take on the quintessential village cozy mystery.
Andy is a journalist, but is pretty much the bottom of the barrel and ends up taking on a case that is far above his means. Even though Andy is rather unlikable, I found his accident prone self to be endearing and he did go through some good development.
Hobbes is the inspector with a close connection to the supernatural side of life in the cotswolds and is a no-nonsense badass. And I both love and am terrified by his housekeeper, Mrs Goodfellow.
This a fun take on the Sherlock Holmes trio.
My main issues with this book is that it lacked world-building and explanation of paranormal elements. And sometimes the jokes were just… awful haha 😂
---
Astronomy: "Star" in the Title
A Court of Frost and Starlight; Sarah J. Maas ⭐⭐⭐⭐
I went into this ACOTAR novella with very low expectations.
I've only heard negative things about this book!
However, I read this in a single sitting and I really enjoyed it! There was a sweetness and casualness to it, but also the usual underlying tension between certain characters and what the future has in store.
My one issue is the things Rhys says during sex… my god are they awkward and weird to read!
I'm actually really looking forward to reading the next series, as I love Cassian with all my heart and I kind of love grumpy Nesta. Oh and talking of Archeron siblings, Elain is growing on me after reading this book. I'm also torn between wanting her with Lucien or Az… I love them both so much! ~AGONY~
---
Ancient Runes: Read A Retelling
The Wrath & the Dawn; 
Ren
ée Ahdieh
⭐⭐⭐⭐⭐
This was amazing!
I could tell I was going to love this book when my anxiety hit hard and I was scared the ending was going to make me regret every life choice I've ever made…
BUT I powered through and I'm so happy! And also not because that ending hit me hard in the feels!
Shazi was a wonderful protagonist and I enjoyed every moment with her. I'm glad that there is a female friendship as well as a male one because often in YA fantasy, women are mostly enemies… I love Despina's wit and their bickering.
I'm also really interested to see more of Khalid's growth as a person. I do find him incredibly interesting and I think his character opens up a conversation of "for the greater good" and what a leader has to do to ensure his people's survival. I do think his actions are deplorable, but at the same time it makes you wonder what you would have done in his place.
---
Transfiguration: A Book With Sprayed Edges Or a Red Cover
Playing with Fire; 
Gena Showalter

 

⭐⭐

.75

I would like to preface that I did have fun reading this book. The voice of Belle was hilarious and I enjoyed all the characters.
However, I went into this not really reading the blurb and thought that this was YA… it's not. It definitely is not!
This was a little too paranormal romance for me. Y'know what I mean? It reads like adult/new adult paranormal romance, which isn't a bad thing, but can get bogged down in the sex. Belle meets Rome when he's trying to "neutralise" her and instantly wants to get into his pants… and vice versa!
And that doesn't change throughout the book… so many awkward moments…
The plot of secret "government" groups of paranormal people and their rivalry was so interesting, but this plot could have been better explored. I wanted to know so much more about this world. I guess that's for the next books which I won't be reading.
---
History of Magic: A Book Published at Least 10 Years Ago
Tale of the Body Thief; Anne Rice ⭐⭐⭐⭐
Maybe closer to a 3.5-7.5☆
Tw: Rape: I was completely taken aback by this scene, and I haven't seen many reviews express that this occurs.
The plot of this book takes a while to start and meanders quite a bit, which is pretty standard for Rice novels. However, I enjoyed the philosophical and religious themes and conversations in this book. Lestat can get a bit tedious at times but I feel like he is the epitome of an unlikable character that you can't help but like. It's a strange relationship.
In this book Lestat must come to terms with his want at being human and his actual feelings when it occurs.
Also I was want my own Mojo! This dog sounds so cute and cuddly!
---
Muggle Studies: Read a Contemporary
The Chemist; 
Stephanie Meyer

 

⭐⭐⭐⭐

I don't care what anyone says I like Meyer's writing and this was no exception.
Alex was a great character to follow, as were Daniel (who is adorable and needs to be protected at all costs), Kevin (who is hilarious and a dumbass!) and Val (who I loved!). Oh and did I mention there's a dog named Einstein who I would die for? Because there is a dog names Einstein who I would die for.
Alex has been on the run for a couple of years after her bosses try to kill her. As a scientist, Alex would use her knowledge and research in chemicals to basically torture information out of terrorists. She ends up taking one more job and ends up getting pulled further back into the conspiracy behind why she's truly running for her life.
The plot was a little slow at the beginning, but it was a lot of fun and the majority of the plot was very engaging.
This reads as a standalone, but I kind of hope that there will be more. However, Meyer needs to write the sequel to The Host, so this is grand as a standalone 😂
---
Potions: Next Ingredient – Sequel
Until I Die (Revenants #2); Amy Plum ⭐⭐⭐⭐
"Mon ange"
*brb I'm crying!*
I can't really say much as this is a sequel, but the events of book one make life more difficult for out band of Revenant's and Kate, who are waiting for Numa's next moves.
I'm so mad that I'm only getting to this trilogy now, because they are so much fun! Kate is a wonderful protagonist and I don't think I'm ever annoyed at her decisions. I think she's great! The story is action packed and the setting of Paris makes everything sound so much more magical (and kind of makes me want to learn French as well as go to France haha).
The romance, although rather sappy is actually really adorable and I want these children to be happy!
I loved learning more about the Revenants and their history and I'm excited to see how this all wraps
---
Arithmancy: Work Written by More Than One Author
Once & Future; 
Amy Rose Capetta & Cori McCarthy

 

⭐⭐⭐
The premise for this was wonderful. A gender bent, sapphic retelling of King Arthur in space! How cool does that sound?!
However, the meandering plotline and the writing – though fast paced and somewhat fun – meant the book was a bit hard to get through at times. So, this turned into an alright read.
I really enjoyed the characters. Ari was a snarky and rash Arthur and Merlin was an old man stuck in the body of a gangly ginger teenager! I liked the additions and new takes on the original, and the call backs were rather fun. And of course I loved the representation.
I'm looking forward more to the sequel because it seems like that will have more quest vibes and I'm a sucker for a good quest!
---
Charms: Read an Adult Work
For this one I chose The Miniaturist; Jessie Burton, however, I'm only halfway through this one at the moment… But to complete this challenges I read:
Pygmalion; George Bernard Shaw ⭐⭐⭐⭐
I'm only familiar with the musical My Fair Lady which is the musical adaptation.
"Walk? Not bloody likely!"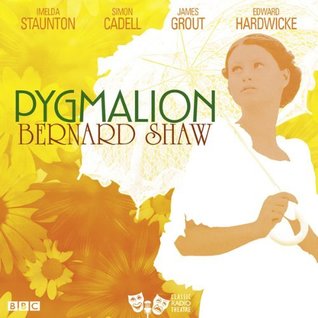 This was funny, interesting and so feminist!
My only issue with this is that it's too short!! I wanted to be in this narrative for so much longer. I would have loved to read more about Eliza's journey from the cockney flower girl to the independent, strong and well spoken woman that she becomes at the end of the play.
I enjoyed the host of characters, especially the females – Mrs Higgins, and Higgins' housekeeper were fantastic women! And even though I like the musical, I like the message of the original better.
---
I also did the BingoAThon in mid May and these are the books I  read & some of them are part of my OWLs TBR too~
Six of Crows; Leigh Bardugo ⭐⭐⭐⭐
Herbology: Plant on the Cover
The Essex Serpent; Sarah Perry ⭐⭐⭐⭐⭐
Divination: Set in the Future
Orange, Complete Collection 1; Takano Ichigo ⭐⭐⭐⭐
I'm counting this because there are parts set in the future :p
Defence Against the Dark Arts: Reducto – Title Starts With an "R"
The Rising; Kelley Armstrong 

⭐⭐⭐.5
For my thoughts on these books, check out my BingoAThon Wrap Up 🙂
---
How did your reading go in May? Let me know in the comments, or let me know what you thought on any of the books I read!
Thanks for reading! I hope you are having a lovely day~