"1 book behind schedule" – Goodreads
I don't care if I'm behind on my challenge, but I'm so proud of myself with the books I read this month! So let's get straight to it!
---
Soulless – Gail Carriger
⭐⭐⭐
Soulless follows the antics of Alexia Tarabotti in a Victorian London where vampires, werewolves and ghost have come out of hiding. Trouble seems to always find Alexia, and she always seems to get under Lord Maccon's feet. Oh and did I mention, Alexia has no soul and Lord Maccon is a werewolf alpha.
This was rather ridiculous, but fun all the same. I don't think Gail Carriger's writing style is meant for me. It seems to be trying too hard! It writes as a caricature of Victorian society that can feel so awkward and cringey!! Especially as a Brit. And for something that is labelled as steampunk, there's barely any steampunk elements.
I will say that I loved the characters. They were wonderful! Alexia was funny, unashamedly snarky and I loved her bickering. I also really like Maccon who was adorable ♥
I don't plan on continuing with the series, but I'm glad I read this book.
(This has nothing to do with the plot or characters, and is only mentioned once, but I'm still hung up on this, so… Canterbury doesn't have a port! It's inland and has no coast! I don't think Carriger knows where Canterbury is haha)
---
The Two Towers – J.R.R. Tolkien
⭐⭐⭐⭐⭐
In the second book of The Lord of the Rings our fellowship is scattered.
I'm honestly blown away with how much I truly enjoyed this! The first half was a gripping read because of the fast paced action and the battle moments. And I was a little worried that I would find the second half boring because it was just Frodo and Sam, but their friendship is so pure and I love them so much!
Samwise Gamgee is my hero ♥
In The Hobbit and Fellowship, I hated how much Tolkien spent on descriptions of nature and walking, but he totally cut back in this section of the trilogy.
Also why did it have to be a giant spider?
The Return of the King – J.R.R. Tolkien
⭐⭐⭐⭐
And because I loved Two Towers so much, I dived right into The Return of the King!
The last installment in the Lord of the Rings.
For the most part I was incredibly captivated by this book. Samwise Gamgee is both my favourite character in the films and in the books now. That precious bean is so precious and I would die for him ♥
His relationship with Frodo in this was beautiful and the ending made me cry, despite knowing it was coming.
But this book was so drawn out after the events at Mordor that I felt it even deeper!
I will say, that there were times that I was bored, mainly because we heard a lot of cool sounding events after they happened. And I would have preferred following them "live" (you know what I mean haha). 
This book could also have ended much sooner! After the events of Mount Doom, I was ready for the book to wrap up, but there was still around 100 pages to go!
However, I am still blown away by how much I enjoyed Two Towers and Return of the King. After reading the Fellowship I felt loathe to continue! I even hated the Hobbit. Come at me! haha
---
Obsidio – Amie Kaufman & Jay Kristoff
⭐⭐⭐⭐⭐
This was looking to be a 4.5☆, but the last 150 pages made my heart race and cry! I haven't read a single book in this trilogy without crying…
Obsidio is the 3rd book in the Illuminae Files. Kady, Ezra, Hanna, and Nik are together and must work out how to get home and keep the 2000 refugees on their ship alive.

Meanwhile, Asha and Rhys are on Kerenza trying to survive against the remaining BeiTech colonisers.
I love the mixed media concept for these books! However, I felt that we didn't really get to know Asha and Rhys as well as the other characters. We flipped back and forth and most of my energy was spent hoping my children from books 1 and 2 were okay.
If they had their own book, I think I would have been more concerned about them. And learning about the after-effects in much more detail on Kerenza would have been so interesting!
But this series would not be anything without Aidan. My wonderful psychotic AI. I find you so interesting, terrifying and I love you!
This was a fantastic trilogy and I can't wait to see what else these authors have to offer us in this world. With that ending don't bother telling me there won't be more!
---
A Court of Wings and Ruin – Sarah J. Maas
⭐⭐⭐⭐
ACOWAR is the third book in this trilogy turned series. Feyre and the Night Court must try and work together with the rest of Prythian to fight against the incoming threat of Hybern.
This was so enjoyable to read! I was anxious about not liking this and reading such a big book, but powering through the audiobook and not letting myself put it off was my best move haha!
Feyre may not make the best decisions, but I really love her as a protagonist. And the Inner Circle, with the additions of Nesta and Elain is great. Although I do find Elain somewhat boring…
Overall, I've been really happy with this trilogy! I'm actually rather excited to see what the Nesta trilogy has to offer.
Rumors – Anna Godberson
⭐⭐
Rumors is the second book in the Luxe series. The Hollands family is going through motions after the first book, and trying to keep their social standing. With Elizabeth out of the picture, attention falls onto Diana, the mischievous sibling.

We're once again thrown into the glitzy, elite, gossip fueled world of the late 19th Century, New York.
Rumors was an okay read, but I prefer to watch these types of stories rather than reading them. This would be like a period drama version of Gossip Girl! I would be so down for that!
I enjoy the Hollands, especially Diana, but I don't really like anyone else. I liked Henry in Luxe, but he's spineless in this one. Penelope is fine at being a generic backstabbing friend. And then most of the other characters, not including Lena (who makes an interesting catty social climber), are pretty much interchangeable.
After the end of this book, and from being spoiled on the end of this series, I have no intention of carrying on with this series.
---
The Plastic Magician – Charlie N. Holmberg
⭐⭐⭐
The Plastic Magician is a novel set in the Paper Magician world.
Alvie is an American magician who comes to England to study with Praff and learn about Polymaking, the newest form of magic. Alvie's enthusiasm reinvigorates her new mentors work. However, with such a new field, there are people prepared to steal someone else's progress.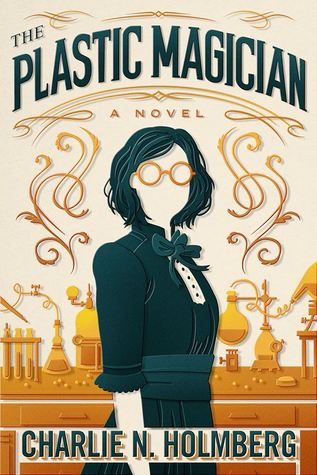 This was funny with a cute and smart protagonist. I liked Alvie's passion for her magic, but for me plastic isn't as interesting as paper. I loved the cameo of Ceony and Thane! They were so cute ♥
The plot felt rushed and the "villain" was just so obvious and even had a moustache (at least I think he did? Or he just screamed villian so much that my brain added that detail haha!)
And even though the romance was cute, it was rushed and could have been better paced, which is why I think the Paper Magician trilogy worked better in the respect.
Despite that, this was a fun and quick read.
---
Die For Me – Amy Plum
⭐⭐⭐⭐
Kate and her sister Georgia are forced to move to Paris to their grandparents after their parents die in a car crash.

While wandering around Paris (which she is very familiar with) she comes into the path of an incredibly attractive man and his friends, who all share a secret that changes Kate's perspective on life and death.
I was expecting this to be a generic ya paranormal love story, but this was a lot of fun!
Kate's voice was great. She was smart in her decisions and her development through the mourning process was interesting.
The lore was interesting and the cast of characters (especially the revenants) were great.
And then the love interest, Vincent, *swoons* I'm not even mad about the insta-love because the plot was strong alongside it. I'm looking forward to continuing with the trilogy.
Nevermore – James Patterson
⭐⭐
Nevermore is the last book in the Maximum Series.
This wasn't the worst book I've ever read. It was fast paced and I enjoyed returning to the flock. Max is a great leader and I really like her motherly instincts.
However, it was just okay. And I'm only really happy about reading this book, because I finally finished this series! I've owned this book since 2012!
Despite all the action not much happened and that ending… ugh. A disappointing end to a great starting series. Books 1-3 were spectacular and I would suggest just stopping there to save you time and pain haha
---
9 books in one month, especially an anxious essay month was great!
I also finished the kdrama – A Witch's Romance, which you can see my thoughts on here.
---
How was April for you? Was it a good reading month?
Thank you for reading! I hope you are having a lovely day~