February is getting romantic~
Today's Goodreads Prompt:
Discuss the first fictional couples you ever got butterflies over, or couples you used to be really into when you were younger.
These ships come from books that I read before I reached the age of 14 – so pre-2009. I believe that I've talked about several of these ships before, but hey ho~
---
5. Ron and Hermione
Harry Potter – J.K. Rowling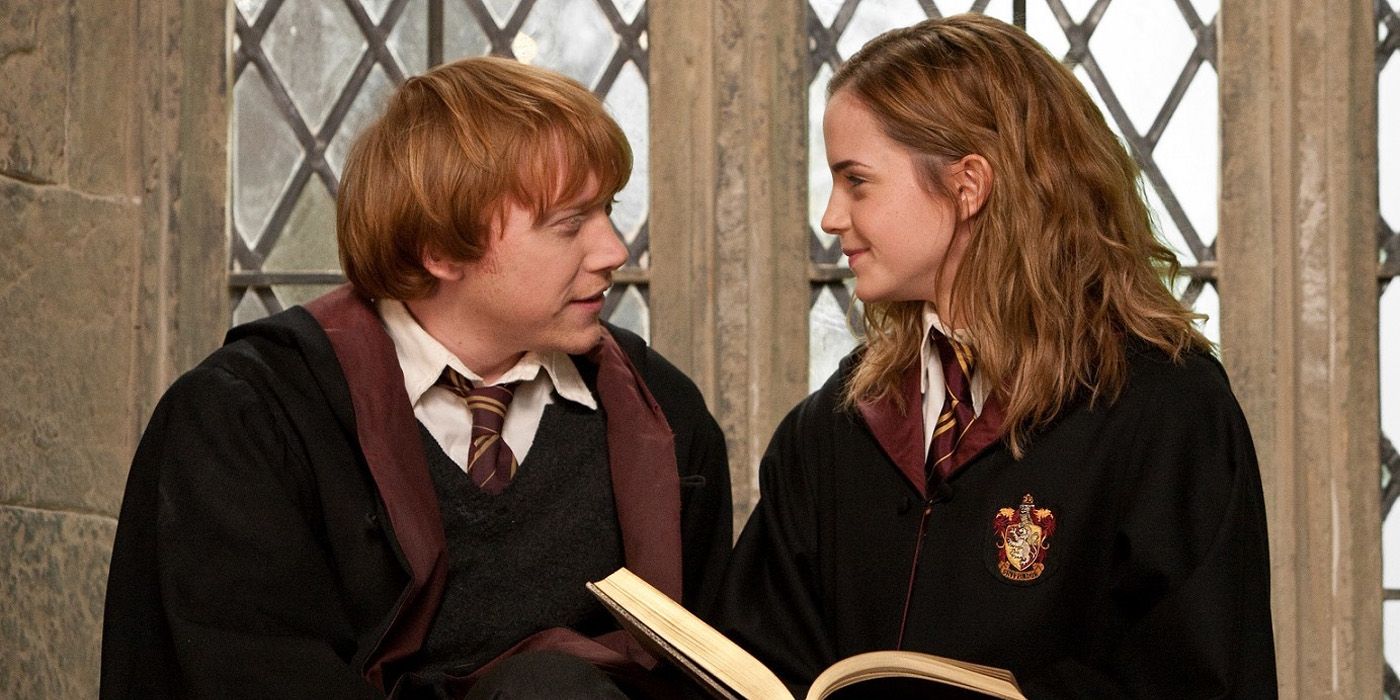 While reading the books, I always loved the ship of Ron and Hermione.
I love ships where there is an abundance of bickering and friendship that leads to love and this hits that spot exactly ♥
I'm in the camp that these two are perfect for each other in the books. However, while watching the films, I will admit that I prefer Harry and Hermione. I think that's simply because there is so much in the books that is not expressed in the films in regards to these two.
What are your thoughts on this?
---
4. Haruhi and Tamaki
Ouran High School Host Club – Bisco Hatori
This was one of the first manga's that I completed in full (I think it's 18 volumes).
There are several ships that contain Haruhi, as she is surrounded by guys in the host club for the majority, but I've always stayed strong with Haruhi and Tamaki.
Haruhi is incredibly smart and level headed, while Tamaki is an idiot haha~ He's very emotional and this allows for a great bond to form between the two. They balance each other in a way that makes me so happy.
It's a definite slow burn ship, but that doesn't mean the manga isn't full of cute moments that make you smile like an idiot haha ♥
---
3. Mary-Lynnette and Ash
Daughters of Darkness (Night World #2) – L.J. Smith
These books include a 'soulmate principle' and these two are my faves out of the many couples in this series. Ash is the typical L.J. Smith male. He's selfish, snarky and you kind of want to punch him haha~
But, the dynamic between Mary-Lynnette and Ash makes me so happy even now. They understand each other and from what I recall, they actually talk and explain their actions etc.
Also, L.J. Smith needs to stop writing Vampire Diaries fanfiction and get her butt writing the ending!! It's been over a decade! A DECADE!!!
---
2. Sonea and Akkarin
The Black Magician Trilogy – Trudi Canavan
I love morally grey and misunderstood angsty-pants male love interests! I did then and I still do haha
Akkarin is probably my favourite incarnation of this trope. Sonea is also one of my favourite female protagonists, her intellect and emotive nature balance well with him.
This ship makes me so nostalgic and I'm still salty about where it ended, but if we go there, I'm going to rant… A LOT! (and probs cry haha)
---
1. Grace and Lorcan
Vampirates – Justin Somper
This is a ship that I've definitely talked about before. And I will always be happy to talk about my precious Vampirate babies!
Lorcan is somewhat brooding (and Irish ♥.♥), and Grace is intelligent and curious. Their personalities compliment each other and are my favourite aspect of the series.
This series brings so much nostalgia from my childhood. It's a series that I read to my mum and she also loved Lorcan and Grace! I just wish that I could have finished the series with her ♥
---
What ships make you nostalgic? Or were your first pairings that you loved?
Thanks for reading! I hope you are having a lovely day~